Package: psi-plus ( 1.4.1231+git20200513-1 )
Links for psi-plus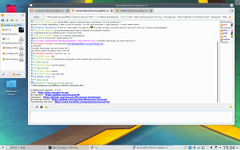 Resources:
Download Source Package psi-plus:
External Resources:
Qt-based XMPP client (basic version)
This package contains basic version of Psi+. Use it if you prefer old fashioned plain text chats from era of IRC heyday.
Psi IM is a capable XMPP client aimed at experienced users. There are keybindings for just about everything, Unicode is supported throughout, contacts are cached offline. Security is also a major consideration, and Psi IM provides it for both client-to-server (TLS) and client-to-client (GnuPG, OTR, OMEMO).
Psi+ is a development branch of Psi IM. Project purposes are:
implementation of new features, writing of patches and plugins for transferring them to Psi IM.
Full list of features you may found at: https://psi-plus.com/wiki/en:features
Other Packages Related to psi-plus
dep: libqca-qt5-2-plugins

QCA plugins for libqca2

dep: libqt5sql5-sqlite

Qt 5 SQLite 3 database driver

dep: psi-plus-common (=1.4.1231+git20200513-1)

common files for Psi+

dep: libc6 (>=2.4)

Embedded GNU C Library: Shared libraries

dep: libgcc1 (>=1:4.2)

GCC support library

dep: libhunspell-1.7-0

spell checker and morphological analyzer (shared library)

dep: libidn11 (>=1.13)

GNU Libidn library, implementation of IETF IDN specifications

dep: libminizip1 (>=1.1)

compression library - minizip library

dep: libqca-qt5-2 (>=2.0.2)

libraries for the Qt Cryptographic Architecture

dep: libqt5concurrent5 (>=5.6.0~rc)

Qt 5 concurrent module

dep: libqt5core5a (>=5.11.0~rc1)

Qt 5 core module

dep: libqt5dbus5 (>=5.0.2)

Qt 5 D-Bus module

dep: libqt5gui5 (>=5.11.0~rc1)

Qt 5 GUI module

dep: libqt5keychain1 (>=0.7.0)

Qt API to store passwords (QT5 version)

dep: libqt5multimedia5 (>=5.6.0~beta)

Qt 5 Multimedia module

dep: libqt5network5 (>=5.11.0~rc1)

Qt 5 network module

dep: libqt5sql5 (>=5.0.2)

Qt 5 SQL module

dep: libqt5svg5 (>=5.6.0~beta)

Qt 5 SVG module

dep: libqt5widgets5 (>=5.11.0~rc1)

Qt 5 widgets module

dep: libqt5x11extras5 (>=5.6.0)

Qt 5 X11 extras

dep: libqt5xml5 (>=5.1.0)

Qt 5 XML module

dep: libstdc++6 (>=5.2)

GNU Standard C++ Library v3

dep: libx11-6

X11 client-side library

dep: libxss1

X11 Screen Saver extension library

dep: zlib1g (>=1:1.1.4)

compression library - runtime
rec: psi-plus-l10n

localization files for Psi+

rec: psi-plus-plugins

plugins for Psi+

rec: psi-plus-sounds

sound files for Psi+

rec: sox

Swiss army knife of sound processing
sug: xdg-utils

desktop integration utilities from freedesktop.org
Download psi-plus
Download for all available architectures
Architecture
Version
Package Size
Installed Size
Files
amd64
1.4.1231+git20200513-1
3.53 MiB
12.04 MiB
[list of files]
i386
1.4.1231+git20200513-1
3.83 MiB
12.54 MiB
[list of files]