Package: freecad-daily (0.20.1+git31829-95a6d1e208-1)
Links for freecad-daily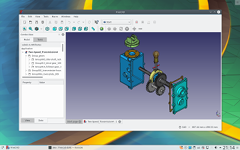 Resources:
Download Source Package freecad-daily:
External Resources:
Extensible Open Source CAx program (beta)
FreeCAD is a general purpose feature-based, parametric 3D modeler for CAD, MCAD, CAx, CAE and PLM, aimed directly at mechanical engineering and product design but also fits a wider range of uses in engineering, such as architecture or other engineering specialties. It is 100% Open Source (LGPL2+ license) and extremely modular, allowing for very advanced extension and customization.
FreeCAD is based on OpenCasCade, a powerful geometry kernel, features an Open Inventor-compliant 3D scene representation model provided by the Coin 3D library, and a broad Python API. The interface is built with Qt. FreeCAD runs exactly the same way on Windows, Mac OSX, BSD and Linux platforms.
Other Packages Related to freecad-daily
dep: libfontconfig1-dev

generic font configuration library - dummy package

dep: python3-matplotlib

Python based plotting system in a style similar to Matlab (Python 3)

dep: python3-pivy

Coin binding for Python 3

dep: python3-pyside2.qtcore

Python bindings for Qt5 core module (Python 3)

dep: python3-pyside2.qtgui

Python bindings for Qt5 Gui module (Python 3)

dep: python3-pyside2.qtuitools

Python bindings for Qt5 UiTools module (Python 3)

dep: python3-pyside2.qtsvg

Python bindings for Qt5 Svg module (Python 3)

dep: python3-pyside2.qtwidgets

Python bindings for Qt5 Widgets module (Python 3)

dep: python3-pyside2.qtxml

Python bindings for Qt5 Xml module (Python 3)

dep: python3-pyqt5

Python 3 bindings for Qt5

dep: python3-pyside2.qtwebenginecore

Python bindings for Qt5 WebEngineCore module (Python 3)

dep: python3-pyside2.qtnetwork

Python bindings for Qt5 Network module (Python 3)

dep: python3-pyside2.qtwebenginewidgets

Python bindings for Qt5 WebEngineWidgets module (Python 3)

dep: python3-pyside2.qtwebchannel

Python bindings for Qt5 WebChannel module (Python 3)

dep: libboost-filesystem1.74.0 (>= 1.74.0+ds1)

filesystem operations (portable paths, iteration over directories, etc) in C++

dep: libboost-program-options1.74.0 (>= 1.74.0+ds1)

program options library for C++

dep: libboost-regex1.74.0-icu72

regular expression library for C++

dep: libboost-thread1.74.0 (>= 1.74.0+ds1)

portable C++ multi-threading

dep: libc6 (>= 2.34)

GNU C Library: Shared libraries

dep: libcoin80c (>= 4.0.0+ds)

high-level 3D graphics kit implementing the Open Inventor API

dep: libfreetype6 (>= 2.2.1)

FreeType 2 font engine, shared library files

dep: libgcc-s1 (>= 3.4)

GCC support library

dep: libgl1

Vendor neutral GL dispatch library -- legacy GL support

dep:

libglu1-mesa

Mesa OpenGL utility library (GLU)

or

libglu1

Mesa OpenGL utility library (GLU)

dep: libgomp1 (>= 6)

GCC OpenMP (GOMP) support library

dep: libmedc11

Library to exchange meshed data (C version)

dep: libocct-data-exchange-7.6 (>= 7.6.3+dfsg1)

Open CASCADE Technology module for CAD data format interoperability

dep: libocct-foundation-7.6 (>= 7.6.3+dfsg1)

OCCT module underlying all other OCCT classes

dep: libocct-modeling-algorithms-7.6 (>= 7.6.3+dfsg1)

Open CASCADE Technology geometrical & topological algorithms module

dep: libocct-modeling-data-7.6 (>= 7.6.3+dfsg1)

Open CASCADE Technology 2D/3D geometric primitives data structures

dep: libocct-ocaf-7.6 (>= 7.6.3+dfsg1)

Open CASCADE Technology application-specific data and functionality

dep: libocct-visualization-7.6 (>= 7.6.3+dfsg1)

Open CASCADE Technology graphical data visualization module

dep: libpyside2-py3-5.15 (>= 5.15.8)

Python 3 bindings for Qt5 (base files)

dep: libpython3.11 (>= 3.11.0)

Shared Python runtime library (version 3.11)

dep: libqt5concurrent5 (>= 5.6.0~rc)

Qt 5 concurrent module

dep: libqt5core5a (>= 5.15.1)

Qt 5 core module

dep:

libqt5gui5 (>= 5.14.1)

Qt 5 GUI module

or

libqt5gui5-gles (>= 5.14.1)

Qt 5 GUI module — OpenGL ES variant

dep: libqt5network5 (>= 5.15.1)

Qt 5 network module

dep: libqt5printsupport5 (>= 5.3.0)

Qt 5 print support module

dep: libqt5svg5 (>= 5.6.0~beta)

Qt 5 SVG module

dep: libqt5webenginecore5 (>= 5.7.1)

Web content engine library for Qt - Core

dep: libqt5webenginewidgets5 (>= 5.14.1)

Web content engine library for Qt - Widget

dep: libqt5widgets5 (>= 5.15.1)

Qt 5 widgets module

dep: libqt5xml5 (>= 5.0.2)

Qt 5 XML module

dep: libqt5xmlpatterns5 (>= 5.9.0)

Qt 5 XML patterns module

dep: libshiboken2-py3-5.15 (>= 5.15.8)

CPython bindings generator for C++ libraries (Python3 shared library)

dep: libspnav0 (>= 1.0)

Library to access 3D-input-devices (development files)

dep: libstdc++6 (>= 11)

GNU Standard C++ Library v3

dep: libtbb12 (>= 2021.4.0)

parallelism library for C++ - runtime files

dep: libvtk9.1 (>= 9.1.0+really9.1.0+dfsg2)

VTK libraries

dep: libxerces-c3.2

validating XML parser library for C++

dep: libzipios++0v5

small C++ library for reading zip files (library)

dep: zlib1g (>= 1:1.1.4)

compression library - runtime
rec: calculix-ccx

Three-Dimensional Structural Finite Element Program

rec: graphviz

rich set of graph drawing tools
sug: freecad-doc

FreeCAD documentation

sug: python-collada

Python module for creating, editing and loading COLLADA
Download freecad-daily
Download for all available architectures

| Architecture | Version | Package Size | Installed Size | Files |
| --- | --- | --- | --- | --- |
| amd64 | 0.20.1+git31829-95a6d1e208-1 | 54.43 MiB | 227.48 MiB | [list of files] |
| i386 | 0.20.1+git31829-95a6d1e208-1 | 55.54 MiB | 225.09 MiB | [list of files] |