Package: freecad-daily (0.18+git17352-ec0049921-1)
Links for freecad-daily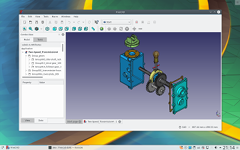 Resources:
Download Source Package freecad-daily:
External Resources:
Extensible Open Source CAx program (beta)
FreeCAD is an Open Source CAx RAD based on OpenCasCade, Qt and Python. It features some key concepts like macro recording, workbenches, ability to run as a server and dynamically loadable application extensions and it is designed to be platform independent.
Currently, FreeCAD can import and display CAD models in IGES, STEP, and BRep formats and meshes in STL, BMS, AST and Wavefront OBJ formats. Editing and modeling features are currently somewhat limited.
Other Packages Related to freecad-daily
dep: libsoqt4-20 (>= 1.6)

Qt4 GUI component toolkit for Inventor - runtime

dep: python-collada

Python module for creating, editing and loading COLLADA

dep: python-matplotlib

Python based plotting system in a style similar to Matlab

dep: python-pivy (>= 0.5.0~v609hg-2)

Coin binding for Python

dep: python-ply

Lex and Yacc implementation for Python2

dep: python-pyside

Python bindings for Qt4 (big metapackage)

dep: pyside-tools

development tools for PySide (uic, rcc, lupdate)

dep: gconf2 (>= 2.28.1-2)

GNOME configuration database system (support tools)

dep: python2.7

Interactive high-level object-oriented language (version 2.7)

dep: python:any (>= 2.6.6-7~)

None

dep: libboost-atomic1.62.0

atomic data types, operations, and memory ordering constraints

dep: libboost-chrono1.62.0

C++ representation of time duration, time point, and clocks

dep: libboost-date-time1.62.0

set of date-time libraries based on generic programming concepts

dep: libboost-filesystem1.62.0

filesystem operations (portable paths, iteration over directories, etc) in C++

dep: libboost-program-options1.62.0

program options library for C++

dep: libboost-python1.62.0

Boost.Python Library

dep: libboost-regex1.62.0

regular expression library for C++

dep: libboost-system1.62.0

Operating system (e.g. diagnostics support) library

dep: libboost-thread1.62.0

portable C++ multi-threading

dep: libc6 (>= 2.14)

GNU C Library: Shared libraries

dep: libcoin80v5

high-level 3D graphics kit implementing the Open Inventor API

dep: libexpat1 (>= 2.0.1)

XML parsing C library - runtime library

dep: libfreeimage3

Support library for graphics image formats (library)

dep: libfreetype6 (>= 2.2.1)

FreeType 2 font engine, shared library files

dep: libgcc1 (>= 1:3.4)

GCC support library (dependency package)

dep:

libgl1-mesa-glx

transitional dummy package

or

libgl1

Vendor neutral GL dispatch library -- legacy GL support

dep:

libglu1-mesa

Mesa OpenGL utility library (GLU)

or

libglu1

Mesa OpenGL utility library (GLU)

dep: libhdf5-openmpi-100 (>= 1.8.13)

Hierarchical Data Format 5 (HDF5) - runtime files - OpenMPI version

dep: libjpeg62-turbo (>= 1.3.1)

libjpeg-turbo JPEG runtime library

dep: libjsoncpp1 (>= 1.7.4)

library for reading and writing JSON for C++

dep: libmed1v5

Library to exchange meshed data (Fortran version)

dep: libmedc1v5

Library to exchange meshed data (C version)

dep: libnetcdf-c++4 (>= 4.2)

legacy NetCDF C++ interface

dep: libnetcdf11 (>= 3.6.1)

Interface for scientific data access to large binary data

dep: liboce-foundation11

OpenCASCADE Community Edition CAE platform shared library

dep: liboce-modeling11

OpenCASCADE Community Edition CAE platform shared library

dep: liboce-ocaf-lite11

OpenCASCADE Community Edition CAE platform shared library

dep: liboce-ocaf11

OpenCASCADE Community Edition CAE platform shared library

dep: liboce-visualization11

OpenCASCADE Community Edition CAE platform shared library

dep: libopenmpi2

high performance message passing library -- shared library

dep: libpng16-16 (>= 1.6.2-1)

PNG library - runtime (version 1.6)

dep: libpyside1.2 (>= 1.0.0~beta3)

Python bindings for Qt 4 (base files)

dep: libpython2.7 (>= 2.7)

Shared Python runtime library (version 2.7)

dep: libqt4-network (>= 4:4.5.3)

Qt 4 network module

dep: libqt4-opengl (>= 4:4.6.1)

Qt 4 OpenGL module

dep: libqt4-svg (>= 4:4.5.3)

Qt 4 SVG module

dep: libqt4-xml (>= 4:4.5.3)

Qt 4 XML module

dep: libqt4-xmlpatterns (>= 4:4.5.3)

Qt 4 XML patterns module

dep: libqtcore4 (>= 4:4.8.7)

Qt 4 core module

dep: libqtgui4 (>= 4:4.8.0)

Qt 4 GUI module

dep: libqtwebkit4 (>= 2.1.0~2011week13)

Web content engine library for Qt

dep: libshiboken1.2v5 (>= 1.1.0)

CPython bindings generator for C++ libraries - shared library

dep: libspnav0 (>= 0.2.2)

Library to access 3D-input-devices (development files)

dep: libstdc++6 (>= 5.2)

GNU Standard C++ Library v3

dep: libsz2

Adaptive Entropy Coding library - SZIP

dep: libtiff5 (>= 4.0.3)

Tag Image File Format (TIFF) library

dep: libvtk6.3

VTK libraries

dep: libx11-6

X11 client-side library

dep: libxerces-c3.1

validating XML parser library for C++

dep: libxext6

X11 miscellaneous extension library

dep: libzipios++0v5

small C++ library for reading zip files (library)

dep: zlib1g (>= 1:1.1.4)

compression library - runtime
sug: freecad-doc

FreeCAD documentation
Download freecad-daily
Download for all available architectures

| Architecture | Version | Package Size | Installed Size | Files |
| --- | --- | --- | --- | --- |
| amd64 | 0.18+git17352-ec0049921-1 | 31.33 MiB | 149.44 MiB | [list of files] |
| i386 | 0.18+git17352-ec0049921-1 | 32.13 MiB | 147.48 MiB | [list of files] |