Package: eiskaltdcpp-qt-unstable ( 2.2.9+git20161012-1 )
Links for eiskaltdcpp-qt-unstable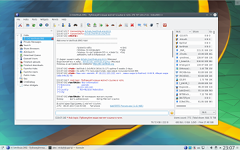 Resources:
External Resources:
EiskaltDC++ GUI on Qt
This package installs only EiskaltDC++ with GUI based on Qt.
EiskaltDC++ is a cross-platform program that uses the Direct Connect and ADC protocols. It is compatible with other DC clients, such as the original DC from Neomodus, DC++ and derivatives. EiskaltDC++ also interoperates with all common DC hub software.
(This is daily builds of the EiskaltDC++ packages)
Other Packages Related to eiskaltdcpp-qt-unstable
dep: eiskaltdcpp-common-unstable

common files for EiskaltDC++

dep: eiskaltdcpp-qt-data-unstable (=2.2.9+git20161012-1)

data files for EiskaltDC++ Qt

dep: libqt4-sql-sqlite

Qt 4 SQLite 3 database driver

dep: libaspell15 (>=0.60.7~20110707)

GNU Aspell spell-checker runtime library

dep: libc6 (>=2.14)

Embedded GNU C Library: Shared libraries

dep: libeiskaltdcpp2.3-unstable (>=2.2.9+git20161012)

DC++ kernel library from EiskaltDC++

dep: libgcc1 (>=1:4.1.1)

GCC support library

dep: libqt4-dbus (>=4:4.5.3)

Qt 4 D-Bus module

dep: libqt4-declarative (>=4:4.7.0~beta1)

Qt 4 Declarative module

dep: libqt4-script (>=4:4.5.3)

Qt 4 script module

dep: libqt4-sql (>=4:4.5.3)

Qt 4 SQL module

dep: libqt4-xml (>=4:4.5.3)

Qt 4 XML module

dep: libqtcore4 (>=4:4.8.0)

Qt 4 core module

dep: libqtgui4 (>=4:4.8.0)

Qt 4 GUI module

dep: libstdc++6 (>=4.6)

GNU Standard C++ Library v3
rec: libqtscript4-core

Qt Script bindings for the Qt 4 Core library

rec: libqtscript4-gui

Qt Script bindings for the Qt 4 Gui library

rec: libqtscript4-network

Qt Script bindings for the Qt 4 Network library

rec: libqtscript4-xml

Qt Script bindings for the Qt 4 XML library
Download eiskaltdcpp-qt-unstable
Download for all available architectures
Architecture
Version
Package Size
Installed Size
Files
amd64
2.2.9+git20161012-1
1.35 MiB
3.49 MiB
[list of files]
i386
2.2.9+git20161012-1
1.36 MiB
3.60 MiB
[list of files]