Package: mypaint (1.3.0~git4990-c32bd422-1)
Links for mypaint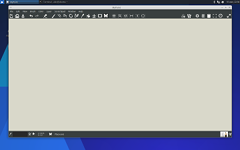 Resources:
Download Source Package mypaint:
External Resources:
paint program for use with graphics tablets
MyPaint is a pressure- and tilt-sensitive painting program which works well with Wacom graphics tablets and other similar devices. It comes with a large brush collection including charcoal and ink to emulate real media, but the highly configurable brush engine allows you to experiment with your own brushes and with not-quite-natural painting.
This package contains the main program.
Other Packages Related to mypaint
dep: gir1.2-gtk-3.0 (>= 3.10)

GTK graphical user interface library -- gir bindings

dep: mypaint-data (>= 1.3.0~git4990-c32bd422-1)

runtime data files for MyPaint

dep: python-gi-cairo

Python Cairo bindings for the GObject library

dep: python-numpy

Numerical Python adds a fast array facility to the Python language

dep: python2.7

Interactive high-level object-oriented language (version 2.7)

dep: python:any (>= 2.7.5-5~)

None

dep: libc6 (>= 2.14)

GNU C Library: Shared libraries

dep: libgcc1 (>= 1:3.0)

GCC support library (dependency package)

dep: libgdk-pixbuf2.0-0 (>= 2.22.0)

GDK Pixbuf library (transitional package)

dep: libglib2.0-0 (>= 2.12.0)

GLib library of C routines

dep: libgomp1 (>= 4.9)

GCC OpenMP (GOMP) support library

dep: liblcms2-2 (>= 2.2+git20110628)

Little CMS 2 color management library

dep: libmypaint-2.0-0

MyPaint brush engine library

dep: libpng16-16 (>= 1.6.2-1)

PNG library - runtime (version 1.6)

dep: libstdc++6 (>= 5.2)

GNU Standard C++ Library v3
rec: shared-mime-info

FreeDesktop.org shared MIME database and spec
sug: mypaint-data-extras

high resolution backgrounds for mypaint
Download mypaint
Download for all available architectures

| Architecture | Version | Package Size | Installed Size | Files |
| --- | --- | --- | --- | --- |
| amd64 | 1.3.0~git4990-c32bd422-1 | 583.34 KiB | 3.04 MiB | [list of files] |
| i386 | 1.3.0~git4990-c32bd422-1 | 577.86 KiB | 3.01 MiB | [list of files] |