Package: gimp (2.8.22+git32588-a61915a8e6-2)
Links for gimp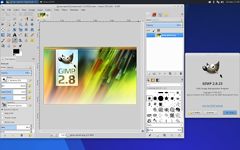 Resources:
External Resources:
The Free & Open Source Image Editor
GIMP is an advanced picture editor. You can use it to edit, enhance, and retouch photos and scans, create drawings, and make your own images. It has a large collection of professional-level editing tools and filters, similar to the ones you might find in Photoshop. Numerous fine-control settings and features like layers, paths, masks, and scripting give you total control over your images.
Many image file formats are supported, including JPEG, Photoshop (.psd), and Paint Shop Pro (.psp) files. It can also be used to scan and print photos.
To open files remotely (like over HTTP), install the gvfs-backends package.
To use a MIDI device (like a musical keyboard) as an input controller in GIMP, install libasound2 and read the how-to at /usr/share/doc/gimp/README.MIDI
Other Packages Related to gimp
dep: libgimp2.0 (>= 2.8.22+git32588-a61915a8e6)

Libraries for the GNU Image Manipulation Program

dep: libgimp2.0 (<= 2.8.22+git32588-a61915a8e6-z)

Libraries for the GNU Image Manipulation Program

dep: gimp-data (>= 2.8.22+git32588-a61915a8e6)

Data files for GIMP

dep: gimp-data (<= 2.8.22+git32588-a61915a8e6-z)

Data files for GIMP

dep: python-gtk2 (>= 2.8.0)

Python bindings for the GTK+ widget set

dep: libgdk-pixbuf2.0-0 (>= 2.24.1)

GDK Pixbuf library (transitional package)

dep: libaa1 (>= 1.4p5)

ASCII art library

dep: libbabl-0.1-0 (>= 0.1.10)

Dynamic, any to any, pixel format conversion library

dep: libbz2-1.0

high-quality block-sorting file compressor library - runtime

dep: libc6 (>= 2.15)

GNU C Library: Shared libraries

dep: libcairo2 (>= 1.10.2)

Cairo 2D vector graphics library

dep: libdbus-1-3 (>= 1.9.14)

simple interprocess messaging system (library)

dep: libdbus-glib-1-2 (>= 0.88)

deprecated library for D-Bus IPC

dep: libexif12 (>= 0.6.21-1~)

library to parse EXIF files

dep: libfontconfig1 (>= 2.11.94)

generic font configuration library - runtime

dep: libfreetype6 (>= 2.2.1)

FreeType 2 font engine, shared library files

dep: libgegl-0.3-0 (>= 0.3.0)

Generic Graphics Library

dep: libglib2.0-0 (>= 2.41.1)

GLib library of C routines

dep: libgs9 (>= 8.61.dfsg.1)

interpreter for the PostScript language and for PDF - Library

dep: libgtk2.0-0 (>= 2.24.10)

GTK graphical user interface library - old version

dep: libgudev-1.0-0 (>= 146)

GObject-based wrapper library for libudev

dep: libjasper1

JasPer JPEG-2000 runtime library

dep: libjpeg8 (>= 8c)

Independent JPEG Group's JPEG runtime library (dependency package)

dep: liblcms2-2 (>= 2.2+git20110628)

Little CMS 2 color management library

dep: libmng2 (>= 1.0.10)

Multiple-image Network Graphics library

dep: libpango-1.0-0 (>= 1.29.4)

Layout and rendering of internationalized text

dep: libpangocairo-1.0-0 (>= 1.29.4)

Layout and rendering of internationalized text

dep: libpangoft2-1.0-0 (>= 1.29.4)

Layout and rendering of internationalized text

dep: libpng12-0 (>= 1.2.13-4)

PNG library - runtime

dep: libpoppler-glib8 (>= 0.18.0)

PDF rendering library (GLib-based shared library)

dep: librsvg2-2 (>= 2.14.4)

SAX-based renderer library for SVG files (runtime)

dep: libtiff5 (>= 4.0.3)

Tag Image File Format (TIFF) library

dep: libwmf0.2-7 (>= 0.2.8.4)

Windows metafile conversion library - transitional package

dep: libx11-6

X11 client-side library

dep: libxcursor1 (>> 1.1.2)

X cursor management library

dep: libxext6

X11 miscellaneous extension library

dep: libxfixes3

X11 miscellaneous 'fixes' extension library

dep: libxmu6

X11 miscellaneous utility library

dep: libxpm4

X11 pixmap library

dep: zlib1g (>= 1:1.1.4)

compression library - runtime

dep: python (<< 2.8)

interactive high-level object-oriented language (default version)

dep: python (>= 2.7~)

interactive high-level object-oriented language (default version)

dep: python2.7

Interactive high-level object-oriented language (version 2.7)

dep: python:any (>= 2.7.5-5~)

None
rec: ghostscript

interpreter for the PostScript language and for PDF
sug:

gimp-help-en

Documentation for the GIMP (English)

or

gimp-help

Documentation for the GIMP (Catalan)

sug: gimp-data-extras

Extra brushes and patterns for GIMP

sug: gvfs-backends

userspace virtual filesystem - backends

sug: libasound2

shared library for ALSA applications
Download gimp
Download for all available architectures

| Architecture | Version | Package Size | Installed Size | Files |
| --- | --- | --- | --- | --- |
| amd64 | 2.8.22+git32588-a61915a8e6-2 | 3.46 MiB | 14.82 MiB | [list of files] |
| i386 | 2.8.22+git32588-a61915a8e6-2 | 3.7 MiB | 15.97 MiB | [list of files] |