Package: gmic-zart (1.7.9+zart-4+nmu1)
Links for gmic-zart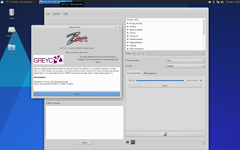 Resources:
Download Source Package gmic:
External Resources:
GREYC's Magic for Image Computing - ZArt
G'MIC is an open and full-featured framework for image processing, providing several different user interfaces to convert/manipulate/filter/visualize generic image datasets, from 1d scalar signals to 3d+t sequences of multi-spectral volumetric images.
This package contains ZArt, a program whose purpose is to demonstrate the possibilities of the G'MIC image processing language by offering the choice of several manipulations on a video stream acquired from a webcam. In other words, ZArt is a GUI for G'MIC real-time manipulations on the output of a webcam.
Other Packages Related to gmic-zart
dep: libc6 (>= 2.15)

GNU C Library: Shared libraries

dep: libfftw3-double3

Library for computing Fast Fourier Transforms - Double precision

dep: libgcc1 (>= 1:3.0)

GCC support library (dependency package)

dep: libgomp1 (>= 4.9)

GCC OpenMP (GOMP) support library

dep: libopencv-core2.4v5

computer vision core library

dep: libopencv-highgui2.4v5

computer vision High-level GUI and Media I/O library

dep: libopencv-imgproc2.4v5

computer vision Image Processing library

dep: libqt4-xml (>= 4:4.5.3)

Qt 4 XML module

dep: libqtcore4 (>= 4:4.8.0)

Qt 4 core module

dep: libqtgui4 (>= 4:4.6.1)

Qt 4 GUI module

dep: libstdc++6 (>= 5.2)

GNU Standard C++ Library v3

dep: zlib1g (>= 1:1.2.0)

compression library - runtime
sug: gmic

GREYC's Magic for Image Computing
Download gmic-zart
Download for all available architectures

| Architecture | Version | Package Size | Installed Size | Files |
| --- | --- | --- | --- | --- |
| amd64 | 1.7.9+zart-4+nmu1 | 1.63 MiB | 4.93 MiB | [list of files] |
| i386 | 1.7.9+zart-4+nmu1 | 1.46 MiB | 4.37 MiB | [list of files] |