Package: azpainter (3.0.7-1)
Links for azpainter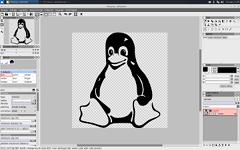 Resources:
Download Source Package azpainter:
External Resources:
16bit RGB full color paint software
AzPainter is full color painting software for Linux for illustration drawing. This is not suitable for dot editing. Since the color is handled with 16 bit color (15 bit fixed point number) internally, the accuracy of color rises, but the memory is consumed correspondingly.
Other Packages Related to azpainter
dep: libc6 (>= 2.34)

GNU C Library: Shared libraries

dep: libfontconfig1 (>= 2.12.6)

generic font configuration library - runtime

dep: libfreetype6 (>= 2.9.1)

FreeType 2 font engine, shared library files

dep: libjpeg62-turbo (>= 1.3.1)

libjpeg-turbo JPEG runtime library

dep: libpng16-16 (>= 1.6.2-1)

PNG library - runtime (version 1.6)

dep: libtiff6 (>= 4.0.3)

Tag Image File Format (TIFF) library

dep: libwebp7 (>= 1.2.4)

Lossy compression of digital photographic images

dep: libx11-6 (>= 2:1.2.99.901)

X11 client-side library

dep: libxcursor1 (>> 1.1.2)

X cursor management library

dep: libxext6

X11 miscellaneous extension library

dep: libxi6 (>= 2:1.2.99.4)

X11 Input extension library

dep: zlib1g (>= 1:1.1.4)

compression library - runtime
Download azpainter
Download for all available architectures

| Architecture | Version | Package Size | Installed Size | Files |
| --- | --- | --- | --- | --- |
| amd64 | 3.0.7-1 | 697.73 KiB | 1.68 MiB | [list of files] |
| i386 | 3.0.7-1 | 757.43 KiB | 1.94 MiB | [list of files] |