Package: tesseract-ocr (4.1.3-2)
Links for tesseract-ocr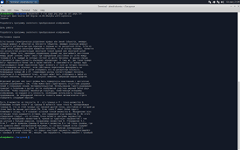 Resources:
Download Source Package tesseract:
External Resources:
Open Source OCR Engine
Tesseract is an open source Optical Character Recognition (OCR) Engine. It can be used directly, or (for programmers) using an API to extract printed text from images. It supports a wide variety of languages. This package includes the command line tool.
Other Packages Related to tesseract-ocr
dep: libarchive13 (>= 3.2.1)

Multi-format archive and compression library (shared library)

dep: libc6 (>= 2.29)

GNU C Library: Shared libraries

dep: libcairo2 (>= 1.2.4)

Cairo 2D vector graphics library

dep: libfontconfig1 (>= 2.12.6)

generic font configuration library - runtime

dep: libgcc-s1 (>= 3.0)

GCC support library

dep: libglib2.0-0 (>= 2.12.0)

GLib library of C routines

dep: libicu67 (>= 67.1-1~)

International Components for Unicode

dep: liblept5 (>= 1.75.3)

image processing library

dep: libpango-1.0-0 (>= 1.37.2)

Layout and rendering of internationalized text

dep: libpangocairo-1.0-0 (>= 1.22.0)

Layout and rendering of internationalized text

dep: libpangoft2-1.0-0 (>= 1.14.0)

Layout and rendering of internationalized text

dep: libstdc++6 (>= 5.2)

GNU Standard C++ Library v3

dep: libtesseract4 (= 4.1.3-2)

Tesseract OCR library

dep: tesseract-ocr-eng (>= 4.00~)

tesseract-ocr language files for English

dep: tesseract-ocr-osd (>= 4.00~)

tesseract-ocr language files for script and orientation
Download tesseract-ocr
Download for all available architectures

| Architecture | Version | Package Size | Installed Size | Files |
| --- | --- | --- | --- | --- |
| amd64 | 4.1.3-2 | 321.27 KiB | 1.47 MiB | [list of files] |
| i386 | 4.1.3-2 | 336.37 KiB | 1.49 MiB | [list of files] |