Package: obkey (1.0+git20180728-1)
Links for obkey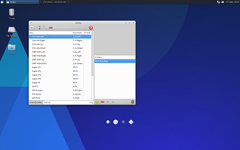 Resources:
Download Source Package obkey:
External Resources:
Graphical key editor for openbox
Obkey is a graphical key editor for the Openbox window manager. Openbox uses XML to store its key preferences, and editing these by hand can quickly become tedious. This utility provides a convenient method of editing the key in a graphical interface, while not losing the powerful features of Openbox.
Other Packages Related to obkey
dep: python:any (<< 2.8)

None

dep: python:any (>= 2.7~)

None

dep: openbox

standards-compliant, fast, light-weight and extensible window manager

dep: python-gtk2

Python bindings for the GTK+ widget set
Download obkey
Download for all available architectures

| Architecture | Version | Package Size | Installed Size | Files |
| --- | --- | --- | --- | --- |
| all | 1.0+git20180728-1 | 17.8 KiB | 97 KiB | [list of files] |