Package: rubyripper (0.7.0+git844-c19661b-1)
Links for rubyripper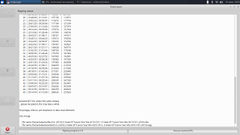 Resources:
Download Source Package rubyripper:
External Resources:
audio extraction tool for sampling CDs
Rubyripper aims to deliver high quality rips from audio cd's to your computer drive. It tries to do so by ripping the same track with cdparanoia multiple times and then comparing the results. It currently has a gtk3 and a command-line interface.
Other Packages Related to rubyripper
dep: ruby

Interpreter of object-oriented scripting language Ruby (default version)

dep: eject

ejects CDs and operates CD-Changers under Linux

dep: ruby-gettext

gettext for Ruby

dep: ruby-gtk3

GTK+ 3 bindings for the Ruby language

dep: cdparanoia

audio extraction tool for sampling CDs

dep: cdrdao

records CDs in Disk-At-Once (DAO) mode
rec: flac

Free Lossless Audio Codec - command line tools

rec: vorbis-tools

several Ogg Vorbis tools

rec: vorbisgain

add Replay Gain volume tags to Ogg Vorbis files

rec: normalize-audio

adjusts the volume of WAV, MP3 and OGG files to a standard volume level

rec: sox

Swiss army knife of sound processing

rec: libcdio-utils

sample applications based on the CDIO libraries
sug: lame

MP3 encoding library (frontend)

sug: cd-discid

CDDB DiscID utility
Download rubyripper
Download for all available architectures

| Architecture | Version | Package Size | Installed Size | Files |
| --- | --- | --- | --- | --- |
| all | 0.7.0+git844-c19661b-1 | 123.1 KiB | 634 KiB | [list of files] |