Package: clementine (1.3.1+git2191-ge9a2161aa-1)
Links for clementine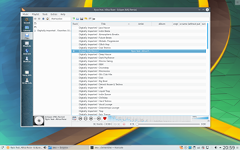 Resources:
Download Source Package clementine-qt4:
External Resources:
modern music player and library organizer
Clementine is a multiplatform music player focusing on a fast and easy-to-use interface for searching and playing your music.
Summary of included features :
Search and play your local music library.
Listen to internet radio from Last.fm, SomaFM and Magnatune.
Tabbed playlists, import and export M3U, XSPF, PLS and ASX.
Visualisations from projectM.
Transcode music into MP3, Ogg Vorbis, Ogg Speex, FLAC or AAC
Edit tags on MP3 and OGG files, organise your music.
Download missing album cover art from Last.fm.
Native desktop notifications using libnotify.
Supports MPRIS, or remote control using the command-line.
Remote control using a Wii Remote, MPRIS or the command-line.
Copy music to your iPod, iPhone, MTP or mass-storage USB player.
Queue manager.
It is largely a port of Amarok 1.4, with some features rewritten to take advantage of Qt4.
Other Packages Related to clementine
dep: libc6 (>= 2.14)

GNU C Library: Shared libraries

dep: libcdio13 (>= 0.83)

library to read and control CD-ROM

dep: libchromaprint1

audio fingerprint library

dep: libcrypto++6

General purpose cryptographic library - shared library

dep: libfftw3-double3 (>= 3.3.5)

Library for computing Fast Fourier Transforms - Double precision

dep: libgcc1 (>= 1:3.0)

GCC support library (dependency package)

dep: libglib2.0-0 (>= 2.37.3)

GLib library of C routines

dep: libgpod4 (>= 0.6.0)

library to read and write songs and artwork to an iPod

dep: libgstreamer-plugins-base1.0-0 (>= 1.0.0)

GStreamer libraries from the "base" set

dep: libgstreamer1.0-0 (>= 1.0.0)

Core GStreamer libraries and elements

dep: liblastfm1 (>= 1.0.7)

Last.fm web services library (Qt4 build)

dep: libmtp9 (>= 1.1.0)

Media Transfer Protocol (MTP) library

dep: libprojectm2v5

Advanced Milkdrop-compatible music visualization library

dep: libprotobuf10

protocol buffers C++ library

dep: libpulse0 (>= 0.99.1)

PulseAudio client libraries

dep: libqjson0 (>= 0.7.1)

Qt-based library that maps JSON data to QVariant objects

dep: libqt4-network (>= 4:4.6.1)

Qt 4 network module

dep: libqt4-opengl (>= 4:4.5.3)

Qt 4 OpenGL module

dep: libqt4-sql (>= 4:4.6.1)

Qt 4 SQL module

dep: libqtcore4 (>= 4:4.8.0)

Qt 4 core module

dep: libqtgui4 (>= 4:4.8.0)

Qt 4 GUI module

dep: libqxt-gui0

extensions to Qt GUI classes (LibQxt)

dep: libsqlite3-0 (>= 3.6.11)

SQLite 3 shared library

dep: libstdc++6 (>= 5.2)

GNU Standard C++ Library v3

dep: zlib1g (>= 1:1.1.4)

compression library - runtime

dep: gstreamer1.0-plugins-base

GStreamer plugins from the "base" set

dep: gstreamer1.0-plugins-good

GStreamer plugins from the "good" set

dep: gstreamer1.0-plugins-ugly

GStreamer plugins from the "ugly" set

dep: libqt4-sql-sqlite

Qt 4 SQLite 3 database driver

dep: projectm-data

Advanced Milkdrop-compatible music visualization library - data
rec:

gstreamer1.0-alsa

GStreamer plugin for ALSA

or

gstreamer1.0-pulseaudio

GStreamer plugin for PulseAudio (transitional package)
Download clementine
Download for all available architectures

| Architecture | Version | Package Size | Installed Size | Files |
| --- | --- | --- | --- | --- |
| amd64 | 1.3.1+git2191-ge9a2161aa-1 | 4.87 MiB | 18.71 MiB | [list of files] |
| i386 | 1.3.1+git2191-ge9a2161aa-1 | 5.09 MiB | 18.78 MiB | [list of files] |