Package: veracrypt (1.26.7-1)
Links for veracrypt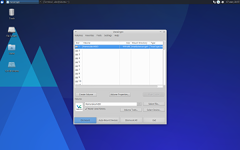 Resources:
Download Source Package veracrypt:
External Resources:
Free open-source disk encryption software
VeraCrypt is a software system for establishing and maintaining an on-the-fly-encrypted volume (data storage device). On-the-fly encryption means that data are automatically encrypted or decrypted right before they are loaded or saved, without any user intervention. No data stored on an encrypted volume can be read (decrypted) without using the correct password/keyfile(s) or correct encryption keys. Entire file system is encrypted (e.g., file names, folder names, contents of every file, free space, meta data, etc).
Other Packages Related to veracrypt
dep: dmsetup

Linux Kernel Device Mapper userspace library

dep: libc6 (>= 2.14)

GNU C Library: Shared libraries

dep: libfuse2 (>= 2.8)

Filesystem in Userspace (library)

dep: libgcc1 (>= 1:3.0)

GCC support library (dependency package)

dep: libstdc++6 (>= 5.2)

GNU Standard C++ Library v3

dep: libwxbase3.0-0v5 (>= 3.0.4+dfsg)

wxBase library (runtime) - non-GUI support classes of wxWidgets toolkit

dep: libwxgtk3.0-0v5 (>= 3.0.4+dfsg)

wxWidgets Cross-platform C++ GUI toolkit (GTK+ runtime)
Download veracrypt
Download for all available architectures

| Architecture | Version | Package Size | Installed Size | Files |
| --- | --- | --- | --- | --- |
| amd64 | 1.26.7-1 | 1.23 MiB | 4.55 MiB | [list of files] |
| i386 | 1.25.9-1 | 1.2 MiB | 4.04 MiB | [list of files] |