Package: balsa (2.6.3+git10088-385054d54-1)
Links for balsa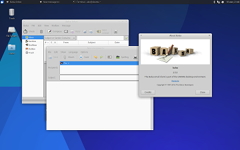 Resources:
Download Source Package balsa:
External Resources:
e-mail client for GNOME
Balsa is a highly configurable and robust mail client for the GNOME desktop. It supports both POP3 and IMAP servers as well as the mbox, maildir and mh local mailbox formats. Balsa also supports SMTP and/or the use of a local MTA such as Sendmail.
Some of Balsa's other features include:
Allowing nested mailboxes
Printing
Spell Checking
Multi-threaded mail retrieval
MIME support (view images inline, save parts)
GPE Palmtop, LDAP, LDIF and vCard address book support
Multiple character sets for composing and reading messages
File attachments on outgoing messages
GPG/OpenPGP mail signing and encryption
Support for Kerberos and SSL has been enabled in this package.
Other Packages Related to balsa
dep:

pinentry-gnome3

GNOME 3 PIN or pass-phrase entry dialog for GnuPG

or

pinentry-x11

FLTK-based PIN or pass-phrase entry dialog for GnuPG

dep: libc6 (>= 2.34)

GNU C Library: Shared libraries

dep: libcairo2 (>= 1.2.4)

Cairo 2D vector graphics library

dep: libcanberra-gtk3-0 (>= 0.25)

GTK+ 3.0 helper for playing widget event sounds with libcanberra

dep: libcanberra0 (>= 0.2)

simple abstract interface for playing event sounds

dep: libcompfaceg1

Compress/decompress images for mailheaders, libc6 runtime

dep: libfribidi0 (>= 0.19.2)

Free Implementation of the Unicode BiDi algorithm

dep: libgdk-pixbuf-2.0-0 (>= 2.22.0)

GDK Pixbuf library

dep: libglib2.0-0 (>= 2.70.0)

GLib library of C routines

dep: libgmime-3.0-0 (>= 3.0.0)

MIME message parser and creator library

dep: libgnutls30 (>= 3.7.0)

GNU TLS library - main runtime library

dep: libgpgme11 (>= 1.5.0)

GPGME - GnuPG Made Easy (library)

dep: libgspell-1-2 (>= 1.8.2)

spell-checking library for GTK+ applications

dep: libgssapi-krb5-2 (>= 1.17)

MIT Kerberos runtime libraries - krb5 GSS-API Mechanism

dep: libgtk-3-0 (>= 3.23.1)

GTK graphical user interface library

dep: libgtksourceview-4-0 (>= 2.91.4)

shared libraries for the GTK+ syntax highlighting widget

dep: libical3 (>= 3.0.0)

iCalendar library implementation in C (runtime)

dep: libldap-2.5-0 (>= 2.5.4)

OpenLDAP libraries

dep: libpango-1.0-0 (>= 1.18.0)

Layout and rendering of internationalized text

dep: libpangocairo-1.0-0 (>= 1.14.0)

Layout and rendering of internationalized text

dep: libsecret-1-0 (>= 0.7)

Secret store

dep: libsqlite3-0 (>= 3.5.9)

SQLite 3 shared library

dep: libwebkit2gtk-4.0-37 (>= 2.31.1)

Web content engine library for GTK
rec: ca-certificates

Common CA certificates

rec: gpgsm

GNU privacy guard - S/MIME version

rec: python3-html2text

Python module for converting HTML to Markdown text (Python3 version)

rec: yelp

Help browser for GNOME
Download balsa
Download for all available architectures

| Architecture | Version | Package Size | Installed Size | Files |
| --- | --- | --- | --- | --- |
| amd64 | 2.6.3+git10088-385054d54-1 | 2.78 MiB | 8.68 MiB | [list of files] |